Kartin Area Itaroa w Pameplonie w Hiszpanie to unikalny obiekt. Jest to raczej tor o krótkiej długości, jednak o oryginalnym designie – możesz ścigać się na nim na 3 różnych poziomach! Zakręty, podjazdy, ostre sekcje połączone z dużą prędkością zapewniają maksimum zabawy i niepowtarzalną atmosferę.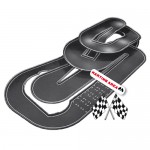 Tor ten jest organizatorem duże ilości wydarzeń, takich jak ligi, pucharówki, wieczory kawalerskie i panieńskie, szkółki nauki jazdy czy eventy firmowe.
Powszechnie znane Sodi RX 5, na których można polegać, zapewniają niezłą frajdę oraz dreszczyk emocji na plecach nawet najbardziej wymagających klientów. Goście oczekujący na swoją kolejkę mogą uczestniczyć w rywalizacji z panoramicznej kawiarni umieszczonej nad torem.