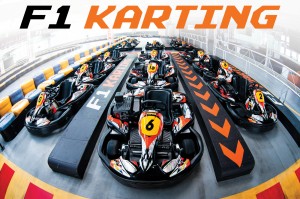 F1Karting z Warszawy to z pewnością jedno z najlepszych miejsc dla kartingu w Polsce. Ponad 5 tysięcy metrów kwadratowych, sala konferencyjna na ponad 400 osób, pokój bankietowy – wszystko to sprawia, że jest to najpopularniejszy wybór wśród firm w stolicy, które szukają miejsca dla swoich eventów. Wiele wydarzeń motosportu miało swoje oficjalne inauguracje właśnie na torze F1.
W całym budynku znajdują się 24 telewizory, które na żywo relacjonują wydarzenia z toru (ostatnie okrążenie, najlepsze okrążenie, liderzy toru itp), a także pokazując plan najbliższych wyścigów i osoby, które powinny przygotowywać się do jazdy. Część z telewizorów przeznaczona jest do wyświetlania specjalnie przygotowanych materiałów reklamowych, promocyjnych i marketingowych. Wszystkie telewizory zarządzane są za pośrednictwem aplikacji kartingmanager.
Na torze gości regularnie lokalna liga kartingowa F1 Karting Challenge, a także wiele innych prywatnych bądź firmowych lig – wszystkie z wykorzystaniem wbudowanych w system kartingmanager automatycznych narzędzi do tworzenia i zarządzania tego typu wydarzeniami.
F1 karting ma także własny profesjonalny zespół kartingowy. Flota, którą posiadają, czyni z nich największy team w Rotax Max Challenge w Polsce. W ofercie toru znajdują się także weekendowe wyjazdy na treningi organizowane na profesjonalnych torach zewnętrznych na wyczynowym sprzęcie.