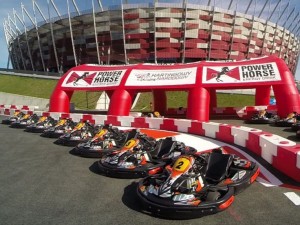 Kartingowy Narodowy to jeden z najwyższej klasy torów kartingowych w Polsce. Z położonego w sercu Warszawy toru, tuż obok monumentalnego Stadionu Narodowego nad rzeką Wisłą, rozciąga się niepowtarzalny widok na biznesowe centrum stolicy kraju.
Tor wyposażony jest w dziesięciokonne karty CRG z wyświetlaczami LAPO zamontowanymi na kierownicach. Ten gadżet to nie tylko zdalny lap timer, ale służy także jako komunikator z kierowcą, pokazuje flagi, komendy i jakiekolwiek inne potrzebne informacje. W przerwie pomiędzy wyścigami LAPO wyświetla loga sponsorów i inne materiały marketingowe.
Na torze zamontowano najnowszy MYLAPS X2 z sektorowym pomiarem czasu. Tor wyposażono także w system kontroli bezpieczeństwa gokartów, który sterowany jest zdalnie z tabletu, dzięki integracji z systemem kartingmanager. W okolicy toru zamontowano 5 telewizorów, które w jakości HD nadają wszystkie niezbędne informacje na temat tego, co aktualnie dzieje się na torze. Wysokiej jakości asfalt zapewnia świetną przyczepnośc, dając maksymalną frajdę z jazdy.
Kartingowy Narodowy to z pewnością zupełnie nowa jakość kartingowych emocji!